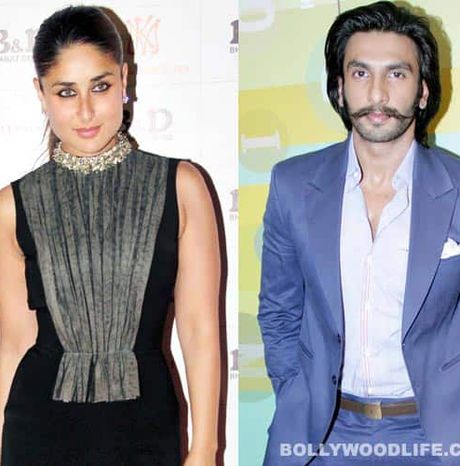 Is Kareena Kapoor avoiding Ranveer Singh? - Bollywood News & Gossip, Movie Reviews, Trailers & Videos at Bollywoodlife.com
The begum of Pataudi Kareena Kapoor Khan seems to be maintaining a safe distance from Ranveer 'Casanova' Singh, who has always had a 'thing' for the Kapoor hottie
Kareena Kapoor Khan first jumped at the prospect of working with her first cousin Ranbir Kapoor when director Zoya Akhtar planned to cast the two superstars from the same filmi khaandaan in her next project. Zoya was keen to revive Bollywood's long forgotten brother-sister jodi in the movies.
Bebo was more than happy to be paired with her talented cousin for the film. But now, with Ranbir opting out of the project citing date clashes and Ranveer Singh being pulled in, KKK is not particularly interested in doing the role, we hear. She is having second thoughts about the character she plays and whether she would be convincing enough when pitted against someone who is not her 'brother'.
We understand Bebo's reasons…sort of. After all, as Ranbir is a performer of the highest degree and his versatility would have made this project even more promising, she could feel a kind of disappointment that goes way beyond the sibling bonding thing. But the replacement – Ranveer aka Casanova Singh – seems to have given the stylish Bebo jitters…no? Interestingly, some months ago Bebo turned down a film offer- Sanjay Leela Bhansali's Ramleela, to be precise – that has Ranveer playing the lead role. Deepika Padukone was roped in to play the part originally sketched for Kareena.
Clearly, Kareena has something against the Singh dude. Perhaps Ranveer's over-the-top flirtatious image is not working his favour and Bebo is in no mood to take the risk of working with that vibe when he is supposed to be her brother…onscreen, of course. To make matters worse, Ranveer declared in a TV chat show that he has a 'thing' for the bootylicious Kapoor babe. In this scenario, wethinks it would make sense for the newly married Bebo to steer clear of films with actors who are over-friendly, or give off that vibe. And given her hubby's Saifu's volatile temper, wifey Kareena should play it safe, wethinks!
http://www.bollywoodlife.com/news-gossip/is-kareena-kapoor-avoiding-ranveer-singh/